By Al Nigrin
Still from Bone Cage.
Bone Cage presents video on demand at the 2021 New Jersey International Film Festival this Friday, June 4th! Here is my interview with Bone Cage Director Taylor Olson and Producer Melani Wood:
Nigrin: Bone cage is a sensitive examination of the parallels between the toxic ideals of masculinity that are taught to children who become men, and how this goes along with the destruction of our earth. Tell us why did you decide to make this film?
Olson: To be honest, I think this is the main issue we face in many parts of the world where we see destruction, be it physical, emotional or spiritual. The culture created around power and masculinity goes hand in hand with racism, homophobia, sexism and of course our struggling planet. We are now crawling to the place where we will not be able to solve the problems that we have created, we are finally if we continue on this path there will be no more hope. I don't mean the movie is a warning, but in a way it's part of a global wake-up call. Here we see the potential that Jimmy has to be his core self, the sensitive part of himself that goes into destruction and finds injured animals and tries to save them, but he's blocked by that performative masculinity that has been used. as a shield to survive in his community, now united with him, and the ripple effect of destruction that this creates, not only for him but for those he loves.
Nigrin: Taylor, was it difficult to play the lead actor in a movie you were directing?
Olson: I must say that I had an incredible chance on this production to work with such a great team who supported me in this business. I've been directing myself in my own films for several years now, and there comes a time when it's second nature. For me, I love being in the trenches with my other actors, it's a great feeling to grind it together. And that way, we can trust and influence each other in a very subtle and organic way. Really, this is something that I really appreciate very much. However, another production that I also really liked was not in the thick of it, so it's always a balance. I am Bone Cage I had the chance to be surrounded by an incredible team like Melani and Kev who made it easy for me.
Nigrin: The other three main actors Ursula Calder who plays Krista, Amy Groening who plays Chicky and Sam Vigneault who plays Kevin are really wonderful. Tell us about them and how they ended up playing in your film?
Olson: They are all amazing Nova Scotian actors. Sam Vigneault as Kevin was an easy casting. We had done the stage version with Matchstick Theater here in Kjipuktuk / Halifax and it was awesome. I was lucky enough to have worked as an actor with Amy Groening (Chicky) in a feature film, Hopeless Romantic, and we immediately clicked. I knew straight away that I wanted her in the movie then; she was then nominated for a Canadian Screen Award in Bone cage. Ursula Calder was a revelation because Krista and I were lucky. I found her as she was leaving DalTheatre and we had instant chemistry. There is great talent here. People rarely notice it, so thanks to the New Jersey International Film Festival for noticing! Very appreciated.
Nigrin: DP Kevin Fraser's fluid but shaky handheld camera work is really excellent at emphasizing the instability of the characters. Was this style of cinematography intended?
Olson: Well, like you mentioned Kevin is an amazing artist. Very, very early in the process, Kevin and I started talking about what we thought the movie would look like and our vision. And, we knew it would be a great partnership right away because our visions were very similar. We wanted the movie to be in those long, flawless pocket takes so that it feels very real and intimate and close and personal. Adding wide lenses to the mix added to our immersive style while still allowing us to capture the beautiful and desolate landscapes in the background. The camera never really leaves our characters, intentionally so that we feel what they are feeling and an almost documentary style and the subtle flutter of camera movements was designed to help our audience connect with the still camera perspective. , hopefully creating a feeling of claustrophobia.
Nigrin: Where did you shoot your film? The views of nature are simply magnificent. Since the film was based on the play of the same name by Catherine Bank, did filming in the real outside world open up the cinematic possibilities of the subject?
Olson: Thank you for these kind words! You know, like I mentioned before, I'm a huge fan of Catherine Banks and her work, and this play was so personal and resonated so deeply with me. Much of her writing and where some of its brilliance comes from is that she is able to capture a sense of place so precisely, and that sense of place is rural Nova Scotia. We filmed the location where the play was written and the world of the people the play represents in Stewiake, as well as a number of other local rural communities. We even shot on the bridge which is the bridge the play is based on. We wanted to create a feeling of authenticity that would make real life "Jamie's" and "Chicky's" seen and proud. What filming in these locations has really opened up is a tangibility that the actors can connect with. By being able to smell, touch, see and smell the landscape. Kevin, Melani, and I spent months scouting the locations to make sure we had the right locations that would work with the style of the movie and the way we wanted to capture those moments. Honestly, I'm nostalgic for filming in these incredible locations.
Nigrin: Are there any memorable stories while you made this film or any other information about your film that you would like to share with us?
Wood: A funny fact is that we only shot one full day in clearcut.
We were going to start our shoot with clear scenes because it was a super unpredictable place to lock in. We were following a real clearcut operation, and they could never guarantee where they were going to be from week to week. I went to spot the venue with our 1st AD while Taylor and Kevin were rehearsing with the cast. We drove an hour and a half to the last main road, then hopped in the back of a van for another 20 minutes on a forest road. When we finally got to where the machinery was, the bugs were so bad that no one could or wanted to get out of their trucks. You couldn't actually open your eyes. We immediately knew that there was no way to ask our crew to come here on the first day no less. No one would come back for the second day! So we moved some things around, took a chance and pushed the clearcut all the way with crossed fingers, the weather would improve and the bugs would disperse. We had a very smooth 14 day shoot, ending on day 15 in our clearcut. It turned out that everything worked out for the best, the operation had moved to a closer and less thorough location (no bugs though!) And we had wonderful weather. It was a daunting risk to change our plan so close to day one of filming, but it worked for the best. We also have our fantastic team, cast and hawk to credit for being such great sports working in the wild with us.
The touching animated film First Light will also star with Bone Cage. Here is more information about this projection:
Friday June 4, 2021 – $ 12 = General
The films will be available on VOD (Video On Demand) for 24 hours on this show date.
To buy tickets go here.
For more information on the 2021 New Jersey International Film Festival, go here:
First Light – Amy Lee Ketchum (Philadelphia, Pennsylvania) Emerging from the sea monster of death, the ghost of a young woman leads her grieving sister into the heart of darkness in search of light. The story of First light is revealed through a synthesis of music and art; a hybrid of traditional hand-cut puppets and hand-drawn 2D character animation with digital effects, and an original classical sheet music. Her poetry is sung by Grammy® Award-winning ensemble singers Maren Montalbano and Jessica Beebe. 2020; 9 min.
Bone Cage – Taylor Olson (Halifax, Nova Scotia, Canada) In this beautiful Nova Scotia feature, Jamie works on the operation of a wood processor, clearcutting for pulp. At the end of each shift, he goes through the destruction he created in search of injured animals and rescues those he can. Jamie's desire to break free from this world is thwarted by the very environment and circumstances he tries to escape. Bone cage is a sensitive examination of the parallels between the toxic ideals of masculinity that are taught to children who become men, and how this goes along with the destruction of our earth. 2020; 79 min.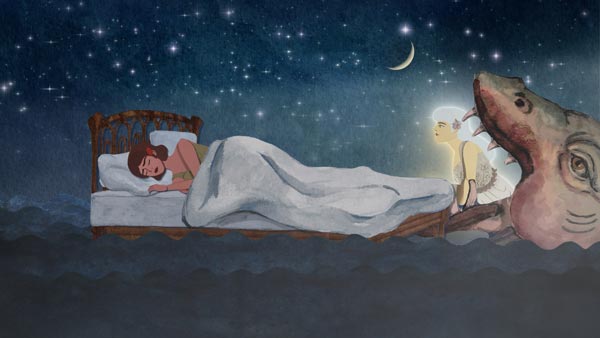 Always from First Light.
---
Albert Gabriel Nigrin is an award-winning experimental media artist whose work has been shown on five continents. He is also a Lecturer in Film Studies at Rutgers University and Executive Director / Curator of Rutgers Film Co-op / New Jersey Media Arts Center, Inc.
---
originally published: 05/31/2021
---
---
---
---
---
Source link